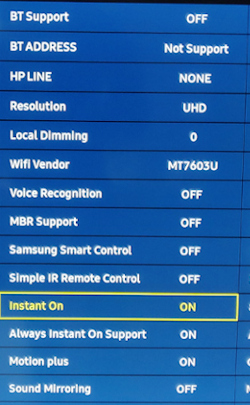 Samsung Smart TV: Disable Wi-Fi in Standby (Instant On)
UPDATE: This did not seem to change the behavior of the TV. Instead, it sometimes bugged when turning it on. Weird. However, turning off automatic app updates in the app store and automatic firmware upgrades in the settings reduced the DNS queries dramatically!
After fixing my Pi-hole installation, I noticed that a Samsung Smart TV in the network always connected to Samsung servers every 30 minutes or so even when it was turned off (in Standby) at the moment.
Circumventing this turned out to be a little bit of a challenge – it's not possible in newer models via the normal settings GUI. That's the reason why we are going to use the inbuilt hidden "service menu". I had to disable the "Instant On" (Quick startup) feature – this also disables Wi-Fi in standby mode.
Warning
Be careful in the service menu!
Take a picture of every option screen that you open. Setting a wrong value might DESTROY your TV!
I am not responsible for any damage. Sorry. However, just write a comment if you have any questions.
Opening the Service Menu
It might be different for every TV model, if the following combination doesn't work, just use your favorite search engine and look up your TV model in combination with "service menu".
To open it on my TV, I had to turn it off and had to use the infrared remote control (not the "Smart" one!) to enter the following combination – just press the buttons one after the other:
Info
Menu / Settings (the button that opens the normal settings menu)
Mute
Power
In the service menu
After pressing Power, the TV will turn on as usual and after a few seconds the service menu should appear: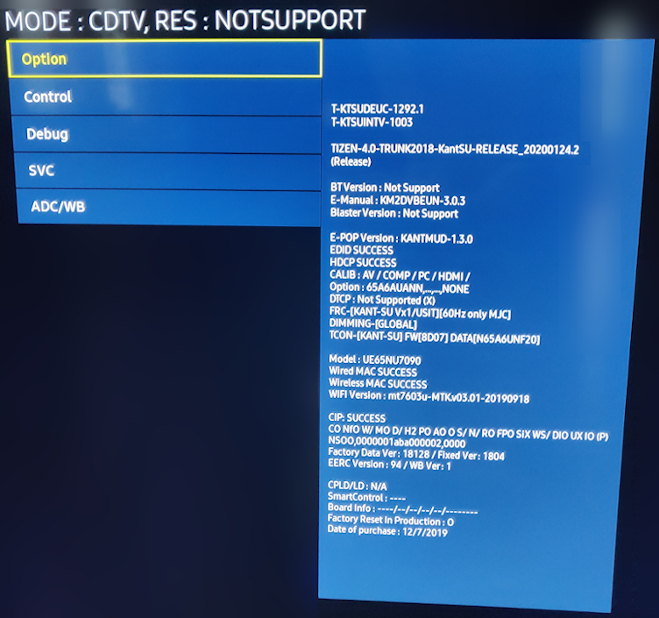 Now, go to the Option menu by pressing OK – do NOT press OK twice (this could lead to a Factory Reset!), wait a few seconds after pressing it!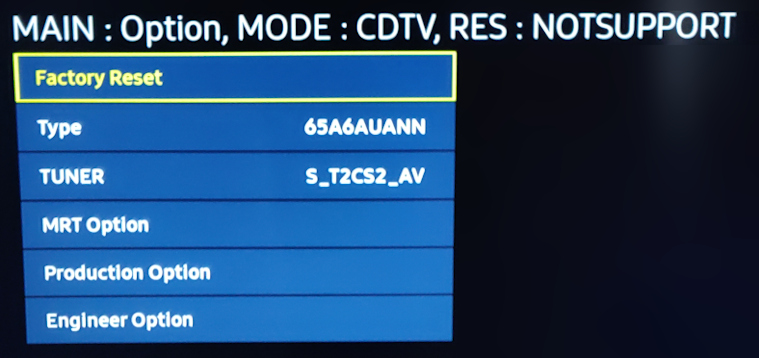 As a next step, open the MRT Options by pressing OK. Navigate to Instant On by using the arrow keys on your remote control.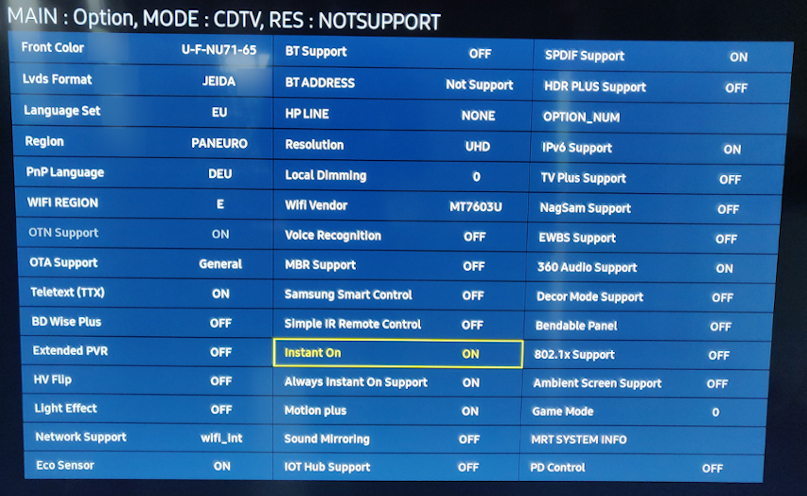 Now, press OK to open the Instant On setting. Use the left/right buttons to change it to OFF.

Press Return/Back to go back to the MRT Options. Switch off Always Instant On Support too by repeating the upper steps.
Finishing it
After you switched off both options, return to the main menu by pressing Return/Back several times. Press the Power button on your remote to turn the TV off. Wait for 30 seconds before turning the TV back on. Your TV should now no longer be active after you turned it off. Congrats!
If you have any questions, do not hesitate to post a comment (Button on the right side of the page).